Fryars Bay beach near Beaumaris
Fryars Bay beach is a small beach, comprising of shingle and small stones. At low water the tide goes out to a muddy shore. This beach is quite easy to pass as it is partially hidden by a sea wall.
At high tide on a sunny day this beach is great beach for a picnic with stunning views of the Snowdonia mountain range.
Fryars bay beach is located on the B5109, just after leaving Beaumaris, on the road to Penmon Priory. This beautiful beach is ideal for a family picnic at high water or a walk along the beach to Lleiniog beach.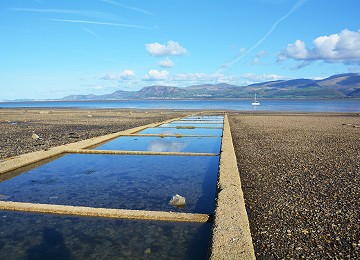 Fryars bay and the RAF Catalinas at Saunders-Roe
Many people pass this beach and are unaware of the history of it and what it was used for during the war.
During the early 1940's Saunders - Roe Ltd were relocated to here and based in the large workshops behind the beach.
They were responsible for modification changes to Catalina's and other flying boats that were to be used in operation by the RAF.
In total 399 Catalina's were modified at Saunders-Roe, near Beaumaris. Air to surface radar was fitted to the Catalina's in secrecy. During the three year period of modification to the Catalina's they were moored from the Gazelle down towards Fryars bay.
It was one of the RAF Catalina's that was modified at Beaumaris that found the German battleship Bismarck, after it escaped during bad weather.
Beaumaris lifeboat station at Fryars Bay
For many years the Beaumaris lifeboat was stationed at Fryars Bay. There was a long steel gantry that stretched out across Fryars Bay to the Lifeboat station.